The Work
It takes a lot of preplanning to organize, schedule, and set up / tear down for each clinic. Sometimes we have to go to individual homes to help folks catch and transport their pets (many have never been on a leash nor received any vetting up to this point) to and from the clinics. After the clinic documents need to be mailed or emailed to the pet owners. So many details to be ready when the animals start arriving at 8:00 AM.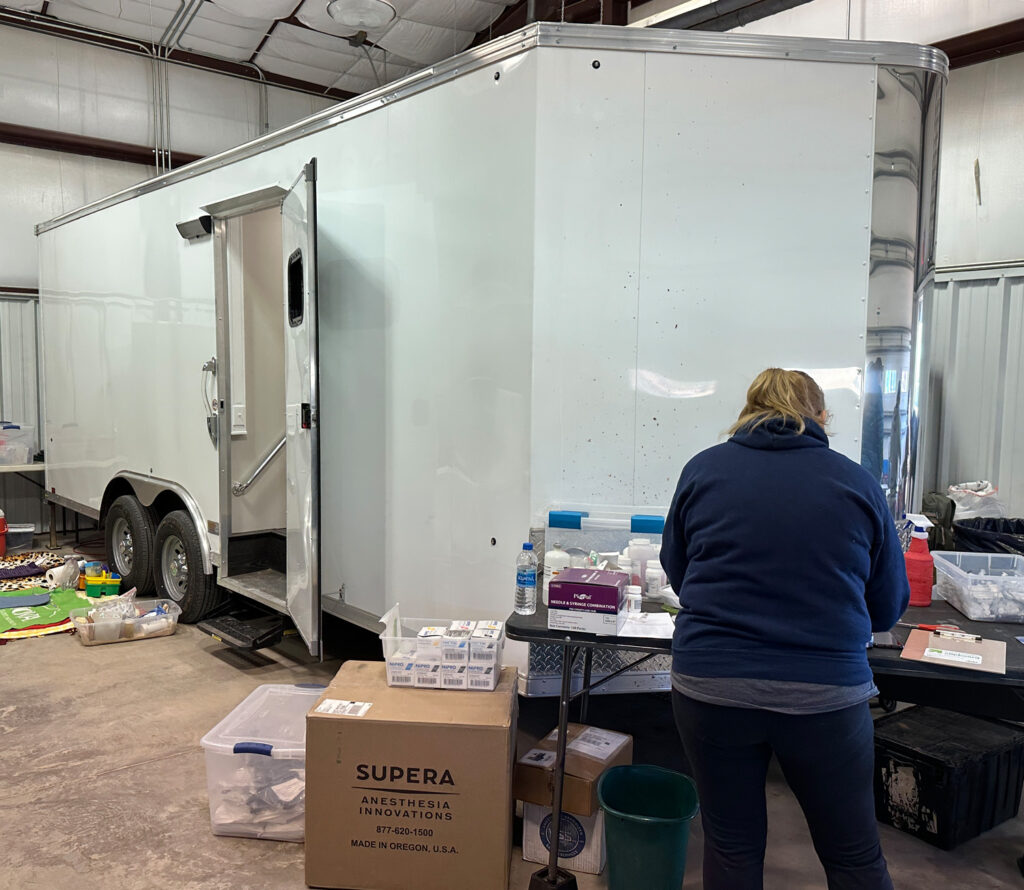 The next day I saw for the first time our new custom spay/neuter trailer complete with prep area and surgery room.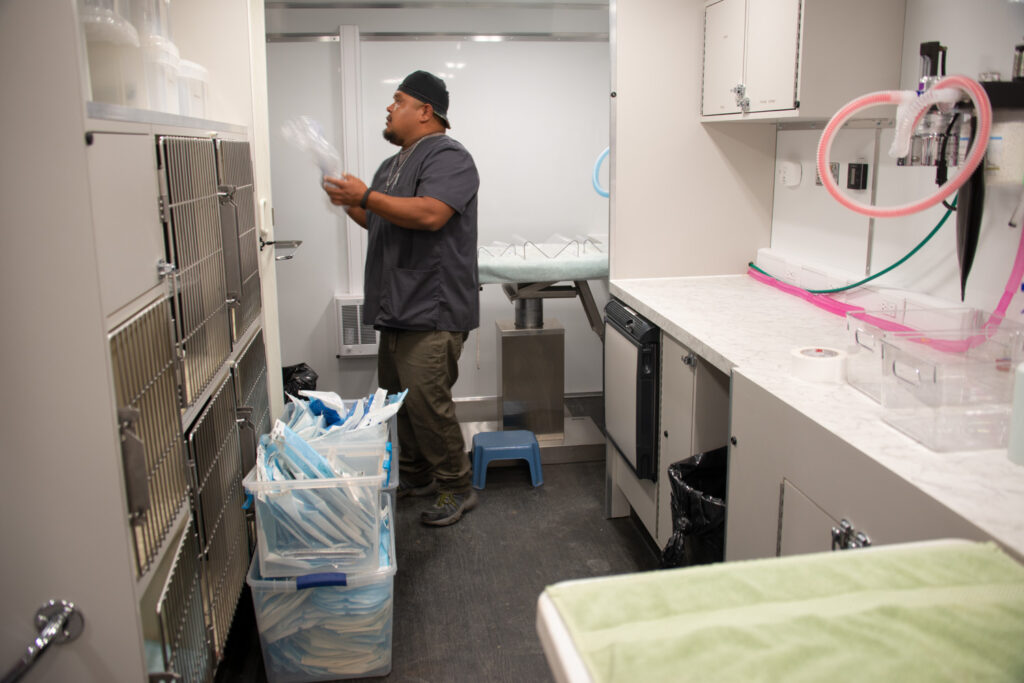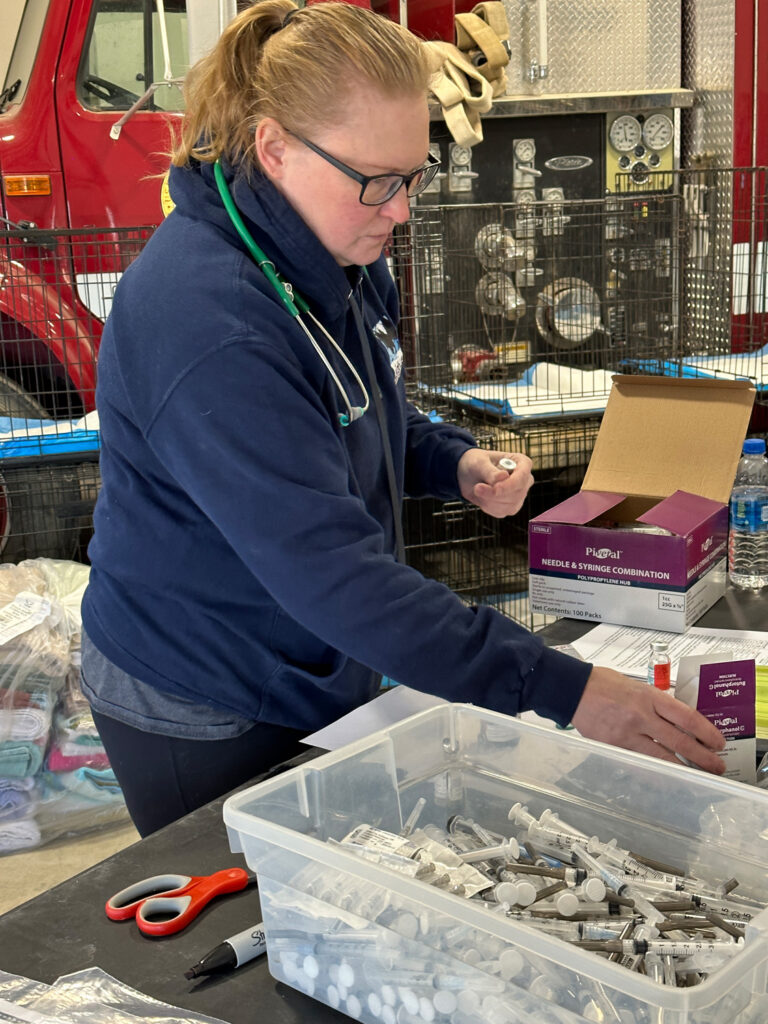 Dr. Erin is our outstanding vet from Colorado who drove down to do the Big Job — spaying and neutering many dogs and cats. I met volunteers who had come from the Pine Hill area and as far away as Ft. Defiance, AZ and Thoreau, NM, some of whom had brought dogs and cats from their neighborhoods to be sterilized or were going out on transport to Phoenix. So many people do care.
We are fortunate to have the use of the Pine Hill fire station, as this allows us to keep our trailer and the animals waiting for surgery and those recovering inside, out of the extreme weather conditions we may encounter summer and winter and gives us easy access to water. This clinic had been planned to operate for 2 days, but a water line broke and forced us to cancel the 2nd day. Another job to be done was contacting those with appointments to let them know and try to reschedule them for December. This snag is just another example of the challenges encountered working in remote areas.
The fire station is set up into several stations: check in, prep, surgery, recovery, pet crates for pets to be contained in while waiting for their surgeries and after the recover before they go home. All surgical instruments must be cleaned and sterilized in "packs" throughout the day so there are enough instruments to operate on each pet
Click on photos to enlarge and scroll.
Pets for spay/neuter
The owners we meet care about their pets. Many people in tribal and rural parts of NM do not have the money or the transportation to take their animals to distant vet clinics. By providing this service where it is needed and free we make it easy for people to do the right thing. We do accept donations though most of the services are subsidized and free.
Flyers are posted locally at the post office, the local store, and some other sites as well as online to get the word out prior to each clinic. The Navajo radio station announces the clinics in both Navajo and English.
Click on photos to enlarge and scroll.
Transport
I have seen transport vans load up and depart before but for some reason I felt more emotional about this one. I believe it was because a number of foster parents had brought their dogs and cats and were saying good-bye to them with last minute cuddles and kisses. As a frequent foster mom I know well what it feels like to let go of our animals so that they can move on to their own home and family.
Since there are too many strays and unwanted animals in the area, we work on setting up pet transports every month or so to get these pets placed in a high adoption area and so they are not reproducing and adding even more litters to the overpopulation. We drive many of them in our old "church" van but often get help from larger groups. In this case, a group sent their truck to us, filled with pet food and left with almost 50 dogs & cats to find homes as the Navajo Nation has epidemic pet overpopulation at this point.
Click on photos to enlarge and scroll.
Spay/neuter clinics
A few years ago friend Betsy Bell passed away and left a bequest of $70 thousand to Bro & Tracy Animal Welfare, and that was enough to enable us to really do something special. Board member Sena immediately said, "I know what to do with that", and that was how our spay/neuter clinics got started, first with an old horse trailer converted into an operating room. And now we have a new trailer, made for this purpose!
Grants and donations subsidize these surgeries and vaccinations.