Frankie is available now.
Frankie is an Australian shepherd male, about 2 1/2 years old.
He is very affectionate and has had some training but needs an experienced owner.
For more information contact Joyce, 505-463-4553, joycefay@broandtracy.org
Fawny is available now
click on photos to enlarge and scroll through
FAWNY
Hi! I'm Fawny, a three-year-old purebred tri-color female Border collie, 30 pounds, 20 inches at the shoulder – beautiful and loving. I have so much affection to give and would like a human to be my life long partner. I love men and women humans equally.
I enjoy playing fetch with my toys and will bring them back for my person to throw again. I love swimming (I used to live near a river), but I bet there are many things I would really like – maybe agility. Who knows? I'd like to have a chance to try everything.
I am potty trained and will scratch the door to get your attention. I prefer to sleep in my humans' bedroom and am quiet all night. I am kennel trained and I do not have separation anxiety when left alone.
I pay close attention to humans when they talk to me. I roll my head from side to side, look them in the eye and sometimes talk. My foster folks say I am intelligent and they enjoy teaching me new commands. I answer to my name and come when you whistle for me. I prefer to ride in the back seat of the car, but sometimes I try to "eat" passing cars, but do not bark at them! I sometimes run to the foster man and jump in his arms to give him some kisses. Even though I can jump very high, I have never jumped out of the fenced yard. They tell me I am not a starter Border collie and I have a special need to be happy. I will let them tell you more.
FOSTER'S COMMENTS:
Fawny was surrendered to Bro and Tracy by her owner because of her need to relocate. Even though she was well treated, it was obvious to us she had some behavioral problems. Having fostered many herding dogs over the years and worked to help "problem" dogs, my wife and I felt Fawny might have neurological issues. Fawny's behaviors exhibited obsessive acting out and certain objects or human actions would trigger her into barking fits. Ceiling fans or a person sneezing would trigger these barking episodes. And no matter the approaches we took to stop her, nothing worked. Fearing the worst, we got her to the veterinarian for examination and diagnosis. The veterinarian agreed that Fawny's issues might be related to a condition called "canine compulsive disorder" and a course of 90 days of drug treatment was started. The drug dosage had to be adjusted during this period, but once established, Fawny's behavior improved. DRAMATICALLY IMPROVED, BUT SHE WILL NEED A HUMAN THAT IS WILLING TO CONTINUE THE DRUGS LIFE LONG AND CONTINUE HER TRAINING. Fawny needs the drug twice a day at 12-hour intervals, and she is happy to take the medication with peanut butter. The drug is not expensive and a generic is available.
Fawny has been cleared for adoption by her veterinarian and us. We believe she will be an excellent companion to the right person/s. This is what we know about her past:
Fawny was raised from 8 weeks in a remote area of New Mexico with a single person owner. She did not have any significant dog pack interactions, and when she came into our home it showed. She was sometimes aggressive to our older dogs. With the medication she now has come to understand the older dogs do not want to play with her. However, she plays beautifully with our two younger dogs which are her age and have similar levels of energy. One of them is a super playful 65-pound male Australian Shepherd and she easily holds her own wrestling with him.
We would not recommend she go to a home with small children although she has not exhibited any aggressive behavior. (We have friends with children check her reactions.) She would probably not be good with cats.
Fawny's ability to fit into your home and lifestyle will probably follow the rule of 3's we have seen with her in our home. The rule of 3: 3 days to settle down in your home, 3 weeks to believe she is staying with you forever, and 3 months to begin accepting your training and instructions because she wants to please you.
We are happy to share all information we have garnered from Fawny's original owner. We are also willing to assist an adopter with finding the right trainer or show you some training hints and tricks we have learned.
Simply put, Fawny is a great dog and her quick response to the medications has shown us what she has to offer to that human who will love, appreciate her and understand the need for continued activity, training and medications. Her ability to learn new things makes her a good candidate for many different activities. Nose work? We can only guess what talents she has but we are sure she has a lot to offer. She is not what we consider a starter herding dog, but with compassion, understanding and patience she could well be the joy of your life.
For more information contact Jack <hotfam1@q.com>
Bro & Tracy's Recent Fosters, now adopted. See what you missed!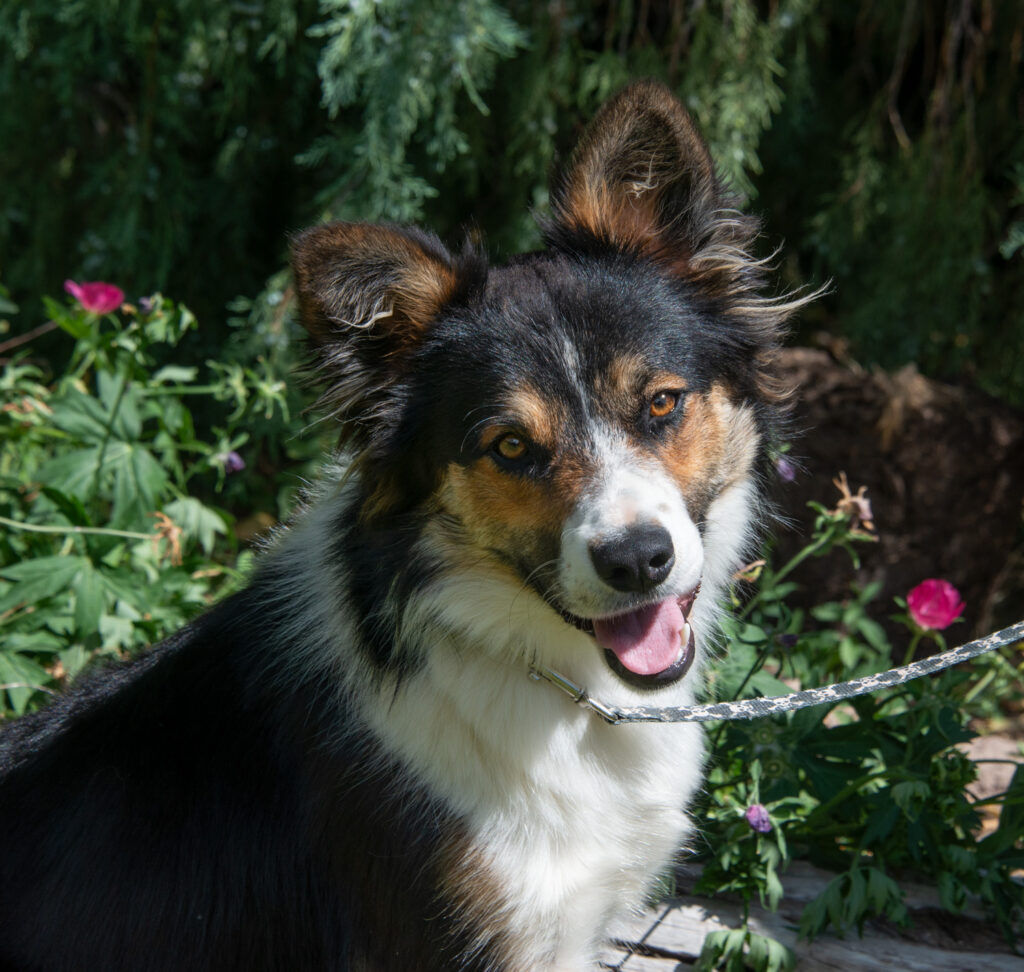 Chappy ADOPTED